October 26, 2020
|
|
0 Comment
WordPress Professional Templates
In the digital world, any online or offline business must have its influential website that raises the outlook of the organization. Before, building a dynamic website was costly and time-consuming. WordPress professional templates are generally used as a way of sorting the web page. It consists of video players or visual atheistic elements, some of the layout and appearance editing tools. It allows you to create your page, It constantly improves by making the fine adjustments until it showcases its professionalism and dedication towards the activity. The first impression always matters on the internet. Let's look at some of the WordPress professional themes.
Blog WordPress Theme
Blog WordPress theme is an amazing theme made just for bloggers. Blogging is the new trend soaring in the internet world and everyone is trying their hands on it. It is also ranks in the list of responsive WordPress themes. Although, writing a blog is a somewhat easy task, the thing where people get stuck is for that desired look for their blog. The blog WordPress theme presented by us is the answer for all the people looking for a professional-looking, clean, stylish and visually appealing theme to instantly start writing blogs without worrying about the tons of responsibilities that come with a website.
Jevelin – WordPress Professional Template
It's a responsive WordPress Theme. It comes with numerous demos of one-click install. It is acceptable by all screens and browsers' moldable design and layout. Jevelin has tons of customizations. There is an attractive and amazing library.
Jevelin is a theme that serves pliability and attractiveness. It has enough space for the insertion of logos, different headers, and footers apart from the custom widgets. It has the feature of slider revolution to set slides. The parallax effect is also the food feature in Jevelin for awesome videos and background display. This theme is used mostly because it fits any scenario with a quick response. It has been improved by doing SEO. With all these features you will feel that you are making your modifications to your canvas.
Divi
This theme is the apex of professionalism. It's not just a theme it's a versatile tool that is used to build your dream theme. Most of the people are daunted by the concept of the coding language and by the numbers of algorithms that it involves. With the help of Divi builder, you can make and edit your visual aesthetic layout without any single line of computer coding. In Divi, we can tweak every detail of the reference website. The theme package also includes some of the interesting default design, you just want to simply apply for the good start. You also have the option of modifying the pre-made layout and making it our own thing.
DynamiX – WordPress Professional Template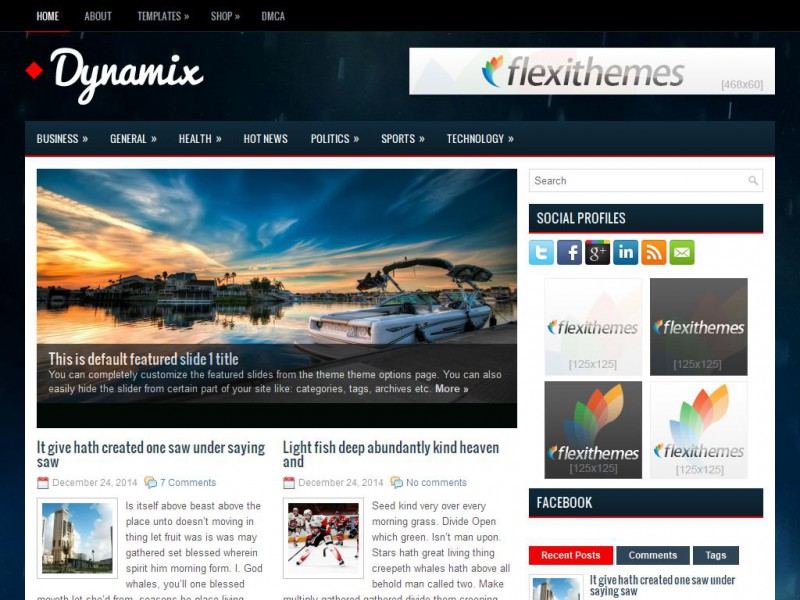 DynamiX is one of the best WordPress professional templates that swiftly suits your business and project needs. After unboxing the DynamiX kit we get approach to 9 different stunning demos. You can use any of them. DynamiX is not complicated, It's super simple to use, edit, and maintain without any need of the programming languages and programming skills. When it comes to DynamiX you can easily customize everything in it. Please ensure that you use the superb theme to its full potential and make the exact website that you always wanted to peculiar.
Stash
It's a secure WordPress professional templates based on incredible customizations to attract the clients and the customers. This has a realistic, clean, and well-organized layout well focused on utility and profit which will be beneficial for the website. Stash has a wide range of integrations to make it highly customizable. Some of them are Visual Composer, Revolution Slider, and Essential Grid. Stash is 100% compatible with all the most popular plugins such as WooCommerce WPML and the contact form.
Stash offers you a lot of pre-designed materials to customize and add functionalities to your site. With 260-page builder blocks, 80-page elements, and 48 homepages. You want to choose between one-page, multi-page, or a mixed-page to design your web layout. Stash has one more add-on feature it has multiple drop-down menus that are also visible on the mobile devices. Stash supports the background videos from many of the sources like Youtube and Vimeo etc. It has unlimited color options for the customizations with 800+ Google fonts and an awesome pack of icons. The main thing for any of the websites is to be up-to-date and Stash provides regular updates, Well organized documents, and a great customer support team.
Studio 9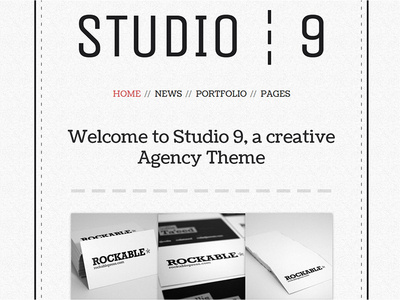 It's the blue ribbon multifunctional WordPress theme. It has 3 versions for many different kinds of users at different prices. The versions are like Standard, Developer, and Club member versions. It has a simple set-up for professional use like showing the portfolios, Projects, and blogs. The setup is user-friendly for the site viewer and user. It has a sensitive and responsive layout with a panel. There are tons of codes that make the actions faster. It is more flexible and attractive.
Studio 9 has a customizable background with the assistance of HTML5 and CSS3 as well as galleries. It handles the WordPress API system and it is installed in one-click. It has the feature of translation and it is speed optimized. You can also play with its unlimited color schemes.
Crane
It is the multi-purpose innovative theme that is used to fulfill the requirement of all types of users. Crane also has an on-click installation process. It is the best theme option for the beginners and those who are not well versed in the programming language. No notion of coding is needed at all. By the use of a visual composer, we can drag and drop the functions. As it is the WordPress professional templates, it is usually appealing and attractive to the professional concept.
Crane is flexible because of its formatting options. It has a responsive design which allows you to put together store, galleries, and blogs. It has the feature of building the CVs and Portfolios. With the legal agreement, Crane offers 11 stunning home pages, 150+ completed inner pages 150+ demo pages in one theme. Professional adjustable clipart images, and 2000+ completely amazing icons.