---
Bloggers put their die-hard effort into creating perfectly crafted posts, eye-catching attractive images, and attractive leads it needs. It's a lot of hard work! The website represents ideas' imaginations and ambitions. Above all, The aim is to entertain the flow of users on the website. Don't make visitors browse the whole site searching for good work. The following are the Best premium WordPress themes for bloggers, chosen for their visual appeal, SEO value, mobile responsiveness, and productivity.
Let's See Some Best Premium WordPress Themes For Bloggers
1. Blog WordPress Theme
WordPress is a well-known blogging platform and with this Blog WordPress Theme, you can create a clean, user-friendly, well-structured, and modern WordPress blog website. In addition, Using this template, you can create portfolios, resumes, writing journals, biographies, and landing pages. It's easy to install and configure in just a few clicks, so you can start blogging right away. The fluid layout of this blog WordPress theme makes it adaptable to different screen resolutions, which makes it one of the best responsive WordPress themes. Moreover, it is translation ready, and it is lightweight. It is designed with keeping SEO factors in mind. Create your own brand and make a statement online by customizing its slider and uploading your own logo. In addition, It works well with third-party plugins. It also works with Woocommerce to create an online store. Thanks to its Bootstrap framework, you can easily customize it. This Features makes it the first theme in the list of best premium WordPress theme for bloggers.
2. Grow Theme WordPress Theme
Our second Theme in the list of best premium WordPress themes for bloggers is "Grow theme". Beautifully and creatively designed theme. This one is a kind of WP Theme pack. The Premium WordPress Theme is uniquely designed with conversion features. Leverage list-building strategies that just can't be flexible with some of the themes.
Above all, It allows you to control high converting list-building strategies without the need for multiple plug-ins or modules and divide the landing page products. You can easily create the featured Boxes, opt-ins, Widgets, Sidebar widgets, and more.
It also has the add-on feature to create the well-designed squeeze, welcome thank you pages and upside-down Homepages. The customer support is very responsive and ingresses everything you need to turn customers into consumers, clients, and email subscribers.
3. Paperback WordPress Theme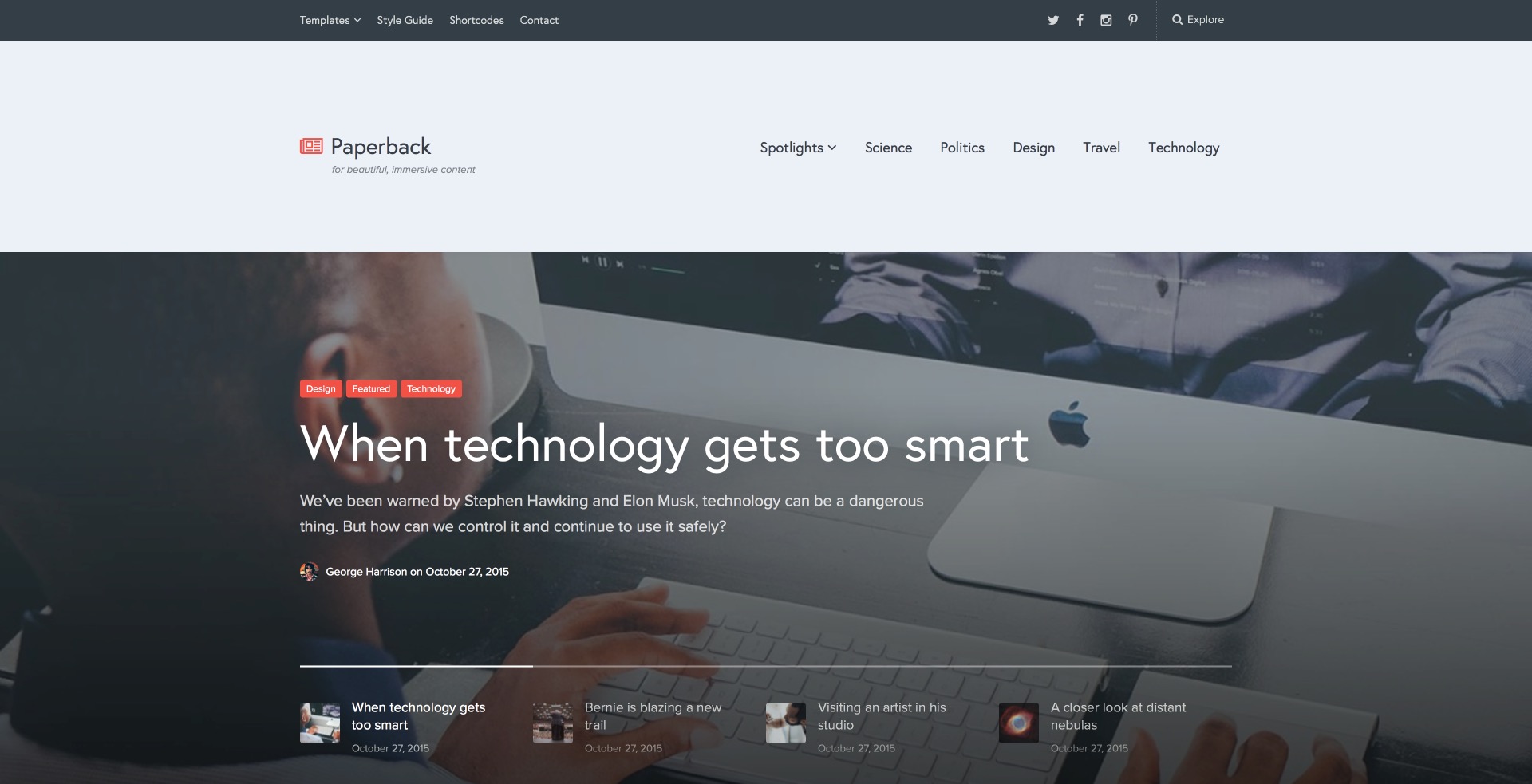 Paperback is created and supported by the Array themes. It also allows you to organize images, galleries, videos, audio and write the content in a way that engages the audience in itself. By integrating this we can use the default versions or our color schemes. The typography is the serif font we have seen in most of the magazines and it comes ready with the Typekit. So that you can customize it by your choice and hold up some of the add-on features including the drop-cap, highlighted text, mixed list, and more. The most amazing and unique part of the theme is how a featured image menu pops up at the top when we navigate back to the page. In this way, the visitors stay for a longer time on the site which results in good lead conversions. This theme would be great for the bloggers.
4. Baseline WordPress Theme
Baseline comes up with the feature of post carousel which means it showcases your posts in a nice sliding manner. This can be placed above the fold. We can also customize the header and footer categories that display the latest 5 posts. This design is designed in such a way that the visitor will not leave the page without reading the content. It also has the Ajax-powered category menu that lets visitors go deep and explore more content without leaving the same page.
This theme has various features. It also supports different aspects like infinite scroll, beautiful serif fonts, sans serif fonts, blockquote, pulls quotes, text highlights. It stands to be the best theme for any of the bloggers which attracts the attention of visitors towards the content.
You should also check out our WordPress Templates Bundle. These themes will most likely help you get your online business off to the right start. The cost of a Themes Caliber WordPress theme bundle is less than buying each theme separately, which can be very expensive. Get started with WordPress Themes Bundle for only $99!
5. Maker Pro WordPress Theme
It's the third-party theme that includes Genesis Framework. Bloggers preferred this theme because of its flexibility and simple styling. It jumps in with 3 types of widget layout (full-width, sidebar left, sidebar right), and header area which can be customizable for your logo or brand name. By this, we can design the full-size imaging and the polished typography.
Moreover, This theme is for all kinds of Bloggers like photos, travel, food, stories, or design. The flexibility and the large real estate of white space won't diminish from your current website.
6. Aspire Pro WordPress Theme
This theme is designed and supported by Appfinite. This vivid and stylish theme is so attractive and flexible that the Bloggers will experience benefits from its customizable design.
It is quick, responsive, and secure right out of the box, Aspire Pro enters with 3 layouts and frames (sidebar left, sidebar right, full-width), and 4 adjustable and adaptable templates. Personalize archive, blog column, portfolio contact, and shop pages for your brand. In addition, This uses 15 widgets areas and a flexible homepage to seek your attention right away. These themes are professional themes for business and designing portfolios and can support all genres of blogs.
7. The Essence WordPress Theme
It's a beautiful and attractive WordPress premium magazine template/theme. It has appealing and modern design themes that ensure that its priority is the content and images.
The Essence theme is perfect for female bloggers who would like to write about fashion, lifestyle, beauty, cosmetics, travel, home decor, designing, or anything else they want. The theme is fully mobile responsive and comes with 17 different layout options and lots of color customization.
8. Uncode WordPress Theme
Last but not least "Uncode" is one of the best premium WordPress themes for bloggers. There is so much competition among bloggers, hundreds of blogs are created. So while facing such stunning competition you need the competitive aspect to stay in the challenge and win it. Uncode is the WordPress theme that improves every element of the Blog's useful features and a fully responsive layout. One of the benefits of the product is that it increases site traffic. The most important bearing of this theme is that it can showcase its content on any of the devices.
The embracing feature of the theme is that the user itself can design its layout with unlimited possibilities. These functions are user-friendly and depend on drag and drop technology. Above all, For designing the layout there is no need for coding. Uncode is optimized and updated for the search engines. It has fast loading speeds. On the user end, it shows the CSS3 animation files. It is possible to modify the post typography.
Usage of WordPress is getting vast among website developers as it is a flexible publishing medium. It gives remarkable features and functionalities that make the businesses shine on the web with great traffic and sales.
There exist an N number of free WordPress themes in the WordPress market store. Therefore, Picking out a few bucks from the pocket and choosing premium and Most Popular WordPress Themes would help you build an unforgettable blog website for your blog.
It has taken me a considerable amount of time to assemble this list of the best premium WordPress themes for bloggers from reputable marketplaces. If you are confused over which theme to choose. Then, This article can help you find the best Premium Blog WordPress Theme.